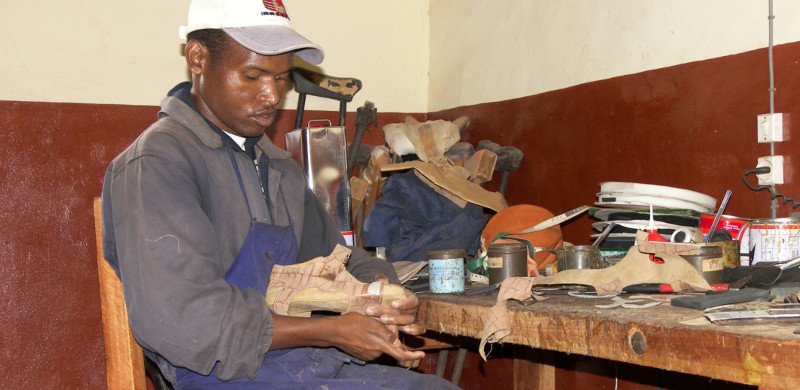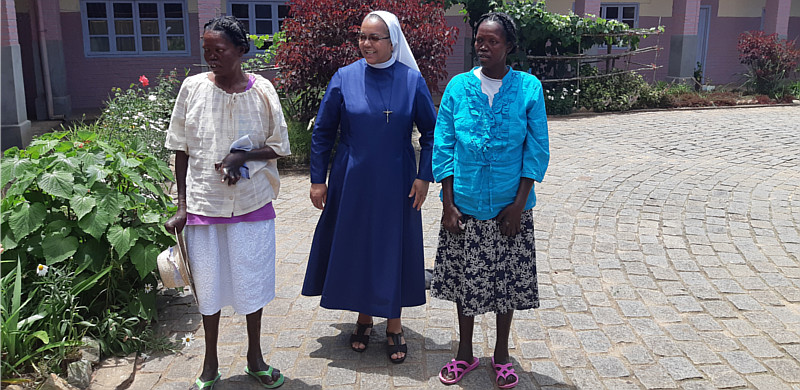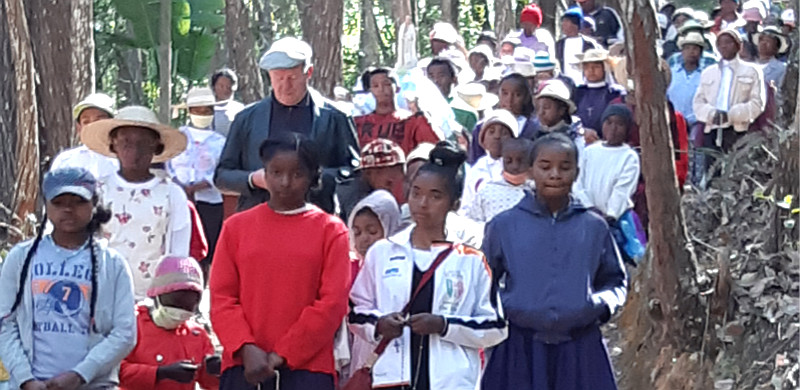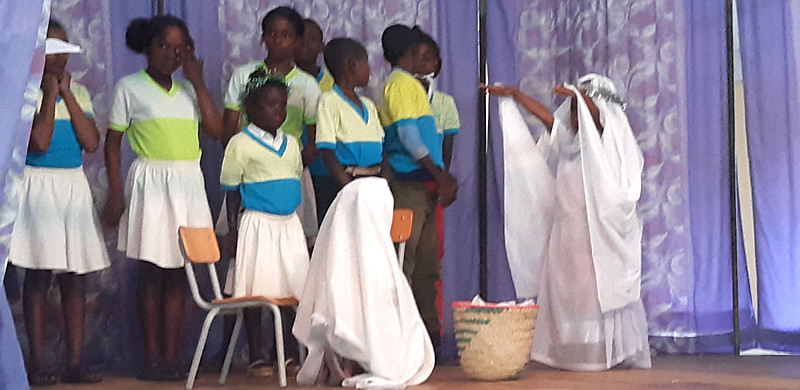 The material support in its diversity, as well as spiritual help (Your prayers) is bountiful and greatly important for our patients. I would like to share the testimony of Marana inhabitants with you. The joy and happiness of "giving generously and without the expectation of being paid" is felt in it. I tried to translate the evidence accurately:
ROGER, 37 years old, our patient, is married to Georgine, who was not infected with leprosy. They have four children: "I suffered much in the village. At the age of thirteen I lost both of my parents. I was already ill at that time. I got a lot of goodness here in Marana. I feel like a saved man and we live a Christian life. At present I work as a shoemaker here. I work for the patients. "Once I was lost, but now I am found" thanks to the care I got in Marana and thanks to the benefactors that I started getting to know since I was cured and began to work with Sisters. I live a new life with my family, Sisters, the lepers, who are being cured here. I am grateful to Sisters and all the colleagues, who work here together with them: to Marodimby and Marofara, the twins, who have been here for three years. They have three and two children accordingly; two of the children are lepers".
MARODIMBY: "My sister and I were infected. We were wondering, why we were so unlucky, we and our children. Why did this happen to us? ... I cried until I lost my voice. We suffered because of the attitude of some family members, neighbors and friends. Nobody visited us. People avoided our company. We were sad, discouraged, shied away!
Having arrived at the leprosarium, I was very happy with the attitude of the Sisters towards us. I told myself: "God exists. Thank you, my Lord". We are happy, content. Our children go to school with other children... We lead a new life. We are glad we can live with other people. That we can work. We thank Sisters, doctors, people, who helped us, particularly the person, who brought us here. We hope that one day we will return to our village and start living there as everybody else".
Marofara will soon return to the village to get the birth certificate, necessary for an identity card.
FLORINE, a patient, a very devoted Christian, 46 years old:"I had been ill for a year since the leprosy was detected. I was treated in the hospital, but with no improvement. After being sent to the leprosarium of Marana, I started to feel better. I can happily say now that I feel much better. The treatment method here also suits me. This can be said not only about the medication I get. They take care of your soul here, not only your body".
ESTELLE, 19 years old, a daughter of former Marana patients: "I was brought up in the leprosarium. Sometimes it comes to my mind that if there were not for the leprosarium, would I be able to get everything I have now... I got the religious education. I could study and get the secondary education. I am grateful to Sisters, to everybody, who helps and provides material support, so that this institution could function. I am grateful to all the benefactors here and beyond Madagascar".
Estelle started her studies here together with her mother, who is a teacher at our kindergarten.
LANTO, has been working as a nursing assistance for four years:"In my opinion, the leprosarium in Marana, compared to other centers of the kind, is very special. The patients here are carefully looked after. The Sisters-nurses are always present. The nursing, the care and the education of the patients encompasses all the levels of their life: social, moral and spiritual. I am delighted, when I see everybody, even those who really suffer hard, that they are happy, feel accepted and loved. The joy and happiness is shared in conversations. Small everyday gestures are the integral part of the care giving. We are here to cure not only the external wounds, but also internal injuries. We need to be careful not to inflict, nor to deepen the inner injuries. I witness, the Sisters in Marana trying hard, so that Marana patients could regain their health, wellbeing and could enjoy their civic and human rights as everybody else".
RASOLONIRINA, 55 years old, a beekeeper:" I have been working as a beekeeper in Marana for three years. I think highly of Sisters' services towards the sick. I see the importance of St Joseph of Cluny Congregation Sisters' work. They receive, nurse and educate the patients. Those people are often rejected by the society and their families as well. The Sisters provide free medical care to the lepers. Expressing my gratitude to the Sisters for their work and dedication, I also want to thank all the Benefactors, who work with them, who offer their savings to help poor sick people. I work here and feel like I am a part of this charitable project. I understand that the Sisters' task is not an easy one, because of the different health status of those, who come here from all the parts of the island. I am grateful to all our dear Benefactors for their generous support for us".
FLORENTIN, 21 years old, both parents were sick with leprosy: "I and my two sisters returned to Marana in 2011 after the death of our mother. Recently I graduated from the high school. The existence of this place is a blessing. I could go to school here, study catechesis. I got a Christian upbringing and learned to live as a true Christian. I am grateful to all the people, who directly or indirectly helped me".
Florentin wants to go to the medical school.
SISTER ODETTE, Marana Sisterhood Superior since 2015: "What can I say about Marana? The Sisters of St Joseph of Cluny Congregation have been in Marana for quite a long time. This year [2021] is the 110th anniversary of Marana leprosarium inauguration. It was built in 1911 by Blessed Father Jan Beyzym SJ".
Jesuit Fathers took care of the lepers from the very beginning of the mission in Fianarantsoa. This mission is very important for our diocese. Fianarantsoa Diocese will celebrate the 150th anniversary of the first Catholic missionaries' arrival. Since that time our diocese has paid special attention to the lepers. Two congregations – Jesuit Fathers and the Sisters of St Joseph of Cluny Congregation are always at their service.
S. Sabine Ramasinoro SCJ