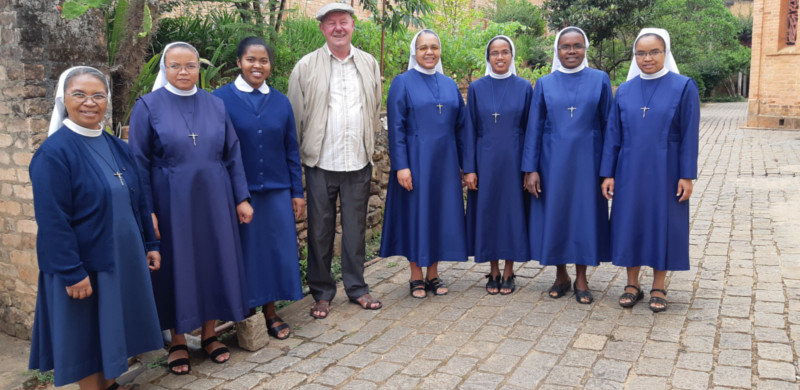 Congregation of St Joseph of Cluny
Marana leprosarium
Archdiocese Fianarantsoa
Marana, 4.11.2021
Subject: The request for the support in borehole, cistern construction and solar panels installation.
DEAR BENEFACTORS,
We, seven Sisters of St Joseph of Cluny in Marana, work in the leprosarium with the lepers and their families. This week we celebrated the 110th anniversary of the hospital that was founded by Blessed Father Beyzym. At present the number of our patients is about 100 people. They are provided with accommodation, food and clothes.
We have been experiencing constant shortages of potable water for the last four years because of the climate changes. The leprosarium functions in accordance with all the regulations, but the water deficiency becomes a big problem in our activities with regard to the issues of hygiene, proper sanitary conditions, the environment and also our garden and livestock husbandry. To provide the necessary amount of water for the leprosarium, we have to travel for a few kilometers.
We need a quick solution to that problem. The solution could be the borehole with the system of pipes that bring water to the leprosarium. This is very expensive investment and we do not have necessary means. That is why we ask you, Our Dear Benefactors, to assist us financially in the construction of the 52 m deep borehole with the water tower and the cistern with the capability of five thousand liters of water as well as the solar powered pumping system.
In the attachment to our letter you will find the investment project and its estimate prepared by the construction company.
We sincerely count on your charitableness and financial support of our project.
Looking forward to your favorable response, we send You, Our Dear Benefactors, our best regards with the expressions of our deep respect and gratitude.
Responsible for the project:
Sister Catherine Ratalata
Mother Superior and Leprosarium Manager
Sister Odette Rafaramanga
Ex- Mother Superior and Leprosarium Manager